For women who have known PCOS (polycystic ovary syndrome) with elevated androgens (male hormones), there is a much greater likelihood to grow extra hair in unwanted areas! The good news is that laser treatment for permanent hair reduction works in almost any place on the body with almost any cause. Laser hair removal is particularly effective if women are being treated with spironolactone (an anti-androgen medication) and/or hormonal birth control treatment with estrogen in the pill. The initial hair removal by laser will still be successful withouth hormone treatment, but the hormonal imbalance in the body will make hair removal more difficult and regrowth more likely to recur over the long run.
Some women have hirsutism without polycystic ovaries or abnormal androgen hormones. If the extra hair production does not have a cause that's found, it is more likely to stay away when treated with a series of five or more laser treatments.
But don't take my word for it, listen to what one of our clients had to say: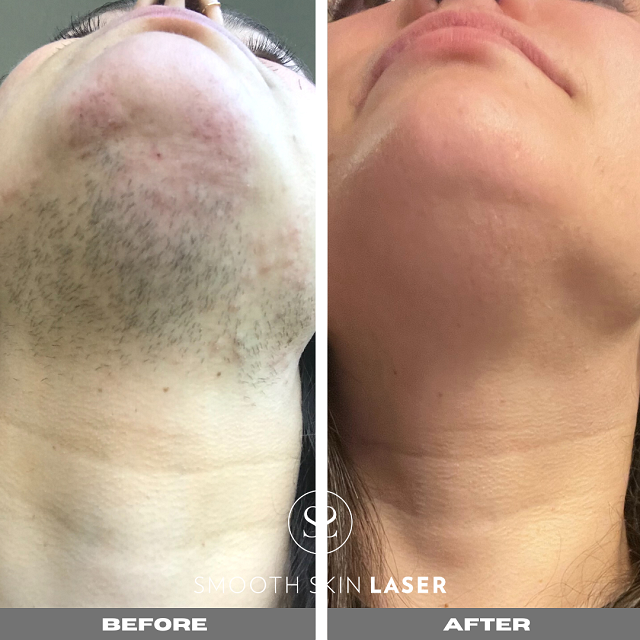 "Smooth Skin Laser has literally changed my life. I am not even exaggerating. I have extreme hirsutism as a symptom of my PCOS (to the severity that I had to shave my face daily). I had tried ALL of the hair removal/maintenance techniques out there — including one unsuccessful year of Electrolysis.
The day I walked into Smooth Skin, I was such a skeptic and had almost lost hope when life introduced me to Kelly. She is THE BEST and has been instrumental in my PCOS hair maintenance journey. Kelly made me feel incredibly prepared & comfortable during every single session. She is an expert in her craft and immediately adjusts settings / speed of the process if I'm in too much pain. Kelly has never left me in the dark about how to prepare or recover from each session and has the patience of a saint.
The quality of machines at Smooth Skin have been incredibly effective, the rooms are clean & sanitary for each visit, and the small caring touches throughout the office (like razors and washcloths in the restrooms for personal care before visits) are a game changer. I have never felt more confident in my skin because of my sessions @ Smooth Skin Laser."
In addition to excess hair growth, other symptoms of PCOS include menstrual irregularity, infertility, acne, and weight gain. If you suspect you may suffer from PCOS or hirsutism, you should consult your primary care doctor or gynecologist to do the testing necessary to make these diagnoses.